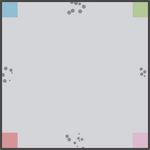 The Base is a place that players spawn when playing Base 2TDM, Base 4TDM, 2 Team Domination, 4 Team Domination, or Assult (D-Day) in Arras.io.
It is sometimes protected by a large Dominator-like tank, called "Base Protector" in the middle. The "Base Protector" shoots Swarms that deal high amounts of damage, but only to enemy players trying to enter the base. In custom servers, the Base Protectors may not spawn in bases.
Behavior
The Bases are to protect players from enemies, so no Tanks/Bosses can enter the other teams' Bases. If a Tank entered the enemy's Base, it will be insta-killed regardless of the health. Ammunitions will disappear when entered the master's enemy's Base, too.
Gallery
Trivia