This article is for Death Screen in Arras.io. For the original Diep.io equivalent, see Death Screen.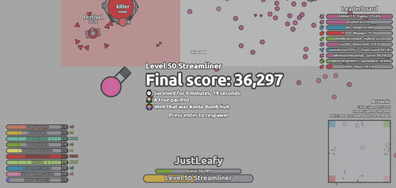 The Death Screen is a feature in Arras.io that displays, after you die, your final score, the tank you last used, time alive, and (for a few seconds) the tank that killed you.
Content
It currently shows:
"lol you died"
Your tank's level.
Your final score.
Your final class and an image of it.
How long you had survived.
How many Tanks you've destroyed.
The name of the entity that killed you.

If a tank, it says with which of their weapons they killed you.

Your Stats.
The Leaderboard.
The map.
The place where you died and what's happening there.
The map and your final position on it.
Data on the server.
Disconnection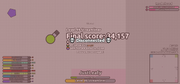 Disconnection happens when the player had a bad or no WiFi connection during the death screen, or they had stayed in the death screen long enough to get this message.
Trivia
Before update on November 22nd, 2017, a death message instead of "You have died a stupid death." was "You have been kille".
Survived time can be measured up to 300 days. Surviving more than 300 days makes the message "Survived for FOREVER".
An icon displayed at "kills" can change depending on how much "kill points"[conjectural] the player granted.

The kill points can be calculated as: Player 1pt, Assist-kill 0.5pts, Visitor 3pts.
Here's the correspondence table of the points and the icon:

0 points: 🌼 (Blossom)
0.5~3.5 points: 🎯 (Direct hit)
4~7.5 points: 💥 (Collision Symbol)
8~14.5 points: 💢 (Anger Symbol)
15~24.5 points: 🔥 (Fire)
25~49.5 points: 💣 (Bomb)
50~74.5 points: 👺 (Japanese Goblin)
75~99.5 points: 🌶️ (Hot Pepper)]
100+ points: 💯 (Hundred Points Symbol)
Community content is available under
CC-BY-SA
unless otherwise noted.