Poluxe Form is an upgrade existing only in the Extended Tale of Diep for the Polygon Disciples. It adds a battle phase that displaces the Phase 1 portion of each of the Disciples' fights, with the original Phase 1s being pushed to becoming Phase 2s, and the original Phase 2s becoming Phase 3s. Their overall weapon design is modified, and completely new attacks are performed with these forms. Poluxe Form has a 20% chance to be used in a Disciple's battle. The Disciples have 1.5 times their original health, with Poluxe Form being 1/2 of their original full health (not the current Phase 2 health benchmark) to form boss fights with three roughly equal phases.
On a somewhat related note, all Disciples now have a variety of facial expressions that reflect their personality, with the exception of Trites (Perpendiculus already had a mouth, so he gets a tiny bracket chin thing instead.) These facial expressions are present in all their fights, not just in Poluxe Form.
Once the transition from Phase 1 to Phase 2 occurs, the new weapons are now considered "worn out", and the Disciple that is currently being fought will go Invincible and run to the back of the room, deposit their old weapons there, and grab the weapons that they will use (the ones in the current Phase 1.) In the case of hand-mounted weapons, any extra attachments will simply shatter or break.
Gallery of Poluxe Forms
Poluxe Form By Disciple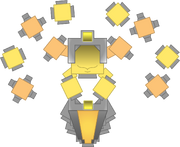 Perpendiculus's Poluxe Form grants him an extra barrel or spawner on each of his hands, and 8 minions that circle around him at the beginning of the fight. Each minion has 1,000 health, and either is a Mini Summoner (that spawns both normal Squares and Summoner Squares, with a limit on 25 for each) or a Quad Sentry, that acts like a bigger Sentry Square with four barrels. Perpendiculus also gets a mini bracket chin, and his main new attachment: the Quadrilateral Cannon. With 9 spawners (most are partially hidden,) it summons both kinds of squares, with Beta and Alpha variations included for the normal kind. Shotgun-style blasts, gatling-style, clump-style, and other attack formations can be performed by Perpendiculus with this weapon. He can also just simply have it summon a crapload of squares. It also has a limit on how many squares it can spawn (600), separate from Perependiculus's 1000 square limit.
Attacks:
WIP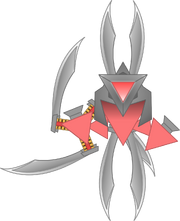 Trites's Poluxe Form doesn't really do too much to Trites himself. He does get an extra weapon, though: a three-bladed sword that can fold up into a giant throwing star, or which can be spun on its axis to form a giant pseudo-shield that blocks all incoming physical damage (and some magic-based damage too.) His other two swords now have an additional blade opposite their normal ones, exactly like how Trites has a linked sword in Stance Change II. Double spins will be performed with these swords, and when Phase 2 is entered, one of each of these swords' blades will break.
Attacks:
WIP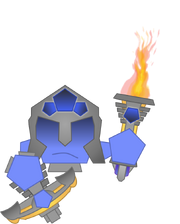 Pentavian gains a new weapon in his Poluxe Form. Instead of holding his Crasher Cannon, Pentavian's left hand now holds a giant torch, which looks nice but is in reality a flamethrower that uses magical fire as its fuel. The magical fire can form into various shapes, such as fireballs or a long fiery stream. In his right hand, Pentavian's shield has been widened, with a Dominator Turret mounted on the front that can swap between Gunner and Destroyer configurations. The Crasher Cannon's spawners have been integrated onto this hand as well, and when Phase 2 is entered, Pentavian will swap everything out.
Attacks:
WIP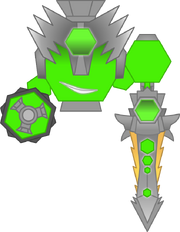 Hexen's XG Swiper sword in his Poluxe Form is much bigger and can act as a grappling hook, negating the need for Hexen's Grapplemaster weapon. His helmet spikes are also slightly longer, and his Thorn Mine launcher is also a bit bigger. On his right hand, he has two hexagon shells on it like a Landmine (only the bottom one spins.) It has +40% damage resistance in Phase 1, and will crack and break upon entering Phase 2. On top of the armored hand, which is used for punching and pushing things, is an Auto Thorn Mine Launcher that has three launchers, launching Thorn Mines when the fist impacts something for even more explosive damage.
Attacks:
WIP
TBD
TBD
TBD
TBD
TBD
TBD
Trivia
Triskaidekaphobia, Tetra Deka, and Pendecasault don't have Poluxe Forms because they already have three-phase battles (or will, when I get around to creating their pages.)
Community content is available under
CC-BY-SA
unless otherwise noted.