Hesperia, or the Realm of Sassafras as it is known to non-Hesperians, is the dimension that is the home of the Hesperian League, the race of Sassafrassy beings.
Overview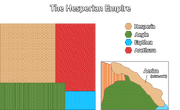 Hesperia is not as large as The Realm, but it is still quite expansive (and much more civilized, as described later) with five large areas to explore. The five provinces are each headed by a Regional Governor answering to the High Council of Hesperia (the High Sassa Council, as it is informally known.) They are as follows:
Hesperia: The main province, and what the Hesperian Encroachment in the Overworld Realm connects to through its portals, also being the location of Trinovia because he keeps watch over entry into Hesperia. The centralized government of the Hesperian League is located here in the city of Hesperia (there's a city called Hesperia City, which is the capital; the region's also named Hesperia; as well as the whole world of Hesperia), as well as most of the bureaucracy. Hesperia (the region) is the northwestern and largest region of Hesperia (the dimension). Its population, as of the last census, was 80.6 million, discounting Sassafras Minions as their lifespans are (usually) too short to accurately measure. Places of interest:

Hesperia Uptown
Daktor Lakys's Factory-Workship
Dipherensis Park
Tritellmennian Trail Memorial
Hesperia City Hall
Hesperia Downtown
Hesperia Central Station
Hatappy's Hat Shop
Lord Sassafras's Palace
Cancalave Square

Erythea: Southeast of Hesperia and the smallest of all the provinces, Erythea is the headquarters of Lauraceae. Erythea is more undeveloped, and what could be called a province is, in fact, a Spartan-like society headed by Lauraceae and the Legion Commanders. The Regional Governor here is usually one of the Legion Commanders. They have statues of the Square Polypatron Spartan everywhere, for some reason. Its population numbers at about 6.7 million Hesperians. Places of interest:

Downtown Erythea
Hesperian Department of Technology
Fortress of the Legion
Hesperian Department of Defense

Aegle: South of Hesperia, and while not nearly as large, Aegle is still home to many Hesperians. Aegle is Sassafrexen's retreat and the location of the Blarney Archives, which Derpii manages; and the IE Energy Reserves. Its population is about 43.2 million. Places of interest:

Sassa Clubhouse
Aegle Downtown
IE Energy Reserves
Blarney Archives
Sassafrexen's Villa
Secondary Sassa Clubhouse

Arethusa: This province is east of Hesperia and numbers at a population of 61.2 million, home to many bureaucratic departments. Oculus and Trinovia are both based here, the latter if he isn't in Hesperia meticulously checking portal integrity. Places of interest:

Greenery Park
Tertiary Teleporation Complex
Secondary Teleportation Complex
Stadium of Sassafras
Sassaprophet's Villa
Monument of Hesperus
Hesperian Department of Logistics
Hesperian Department of Security
Aegle Downtown

Aerica: Known as the Hesperian Encroachment to outsiders, this part of Hesperia isn't even in the dimension. Instead, it's located to the north of the Tectonic Plain, far away from either the Regians and the Cult, but very close to Dodecantar's fortress. This narrow strip of land is technically a heavily fortified territory but is headed by a Regional Governor. This is supposed to be another of Sassaprophet's duties, as he is based here, but since that mockery of the Archprophet doesn't do anything right, the Hesperians here will usually let anyone through, Regians included, without a fight. However, they may attempt to gather some IE Energy while they're at it. The population here is a mere 300,000 Hesperians, for now... Places of interest:
None yet.
Mechanics
The thing about the Realm of Sassafras (or Hesperia) is that it actually wraps around from one side to another. Yes, the entire thing is a globe in space (it's really the moon of the world in which the events of the Extended Tale of Diep takes place, but nobody knows that except for the Hesperians. Their IE energy shielding techniques prevent prying eyes from seeing their cities in the sky.)
While in the Realm of Sassafras, Hesperians are passive and will not attack, since there is no need to gather IE Energy here as it's all around them. The only time that Hesperians will attack is if players enter restricted areas, such as gamemode entrances; or designated boss fights. Otherwise, it is only Legionnaires what will attack; in that case, some players must fight the Tier 4 Legionnaire guards and destroy them so their compatriots can gain entry to the gamemode.
Another exception to that rule are the Area Bosses of each area of Hesperia, which have their own spawn mechanics. They are as follows:
Gamemodes
Time's Up (Hesperian Department of Security) (Arethusa)
Hesperian Department of Logistics (Arethusa)
The Hesperian Games (Stadium of Sassafras) (Arethusa)
Lord Sassafras's Forest (Arethusa)
Hesperian Department of Technology (Erythea)
Hesperian Department of Defense (Erythea)
Fortress of the Legion (Erythea)
The IE Energy Reserves (Aegle)
The Sassa Clubhouse (Aegle)
Secondary Sassa Clubhouse (Aegle)
The Blarney Archives (Aegle)
Sassafrexen's Villa (Aegle)
Hats Off to Hatappy (Hesperia)
Edifice of the Lord (Hesperia)
Lord Sassafras's Palace (Hesperia)
Daktor Lakys's Factor-Workshop (Hesperia)
Hesperian Life
Almost the entirety of the Realm of Sassafras is a sprawling, busy metropolis 62 km by 62 km with all sorts of buildings and services not unlike New York City, bar for a park between Hesperia and Aegle (where Heptone can be found), a few other large parks, and most of Erythea. As such, there exists a public transport system aside from Hesperian-hexagonal-shaped cars - elongnated buses, trains, EVERYTHING!
Players can use Hesperian public transportation to get anywhere they chose in the Realm of Sassafras, except for some parts of Erythea due to Lauraceae's aversion to technology. However, of most importance is the Hesperian Metro - a relatively simple subway system that links all of the above gamemodes, downtown areas for each of the four Hesperian regions, and other places of interest. At first glance, the Hesperians appear to be a backwards race of beings, but in fact, they are much more advanced than any being in the overworld Realm could ever comprehend.
(Map coming soon.)
Trivia
This concept was in the working stages for the longest time, and is still a heavy work in progress.
Happyfras and Sassafras JR take a dual Area Boss role as a tag team training battle against players for fun. This battle is different from their Sassa Club battles due to an additional phase.
Community content is available under
CC-BY-SA
unless otherwise noted.