This article is for Apps used to read the Diep.io Wiki via mobile. For Apps used to play Diep.io on mobile, see Diep.io Mobile.
The FANDOM mobile app can be downloaded & used to read the Wiki's articles & participate in Discussions. It serves as a convenient alternative to viewing the Wiki via mobile web browser.
Acquisition
iOS

Android
Usage information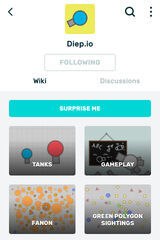 The FANDOM App, or consolidated app, is a multipurpose mobile application that allows readers to:
Create or maintain an existing FANDOM account & edit their Bio.
Access FANDOM Editorials.
Select any of 800+ popular FANDOM Wikis (including the Diep.io Wiki), enabling users to:

Read that Wiki's articles, &
Participate in that Wiki's Discussions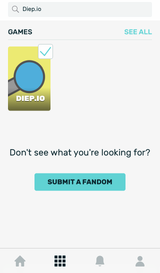 To use the FANDOM App to view the Diep.io Wiki, click the center-left tab (it appears as a 3x3 grid) & from the "Find your Fandoms…" search, just type in "Diep.io" & follow that Wiki. Afterwards, you'll be able to enter this Wiki via the top of the home tab, or by clicking the fourth tab (the Profile tab) & then visiting the "Your Fandoms" column, where Diep.io will be listed with any other Wikis you have followed.
To enter, simply click the Diep.io Fandom once you have located it, & then you will be brought to a navigation panel which should enable you to arrive at any of our articles. Alternatively, you can use the search to arrive at a specific article, or click the "SURPRISE ME" button which displays a completely random article. Also in this navigation panel is a "Discussions" tab, which naturally opens our Discussions for you to dive in. Information on how to use Discussions can be read here, & you can view a list of all your posts in our Discussions by going all the way back to the Profile tab mentioned earlier, in the "Recent Activity" column.
General information
The FANDOM App:
Allows FANDOM Editorial access.
Uses the universal FANDOM light theme.
Displays articles in the Mercury (mobile) skin, which is white.
Available on both iOS & Android.
Allow account creation & limited settings changes such as avatar uploading.
Allow Bios to be edited.
The FANDOM App cannot:
See also
Community content is available under
CC-BY-SA
unless otherwise noted.