| | |
| --- | --- |
| | Tale of Diep (ToD) is no longer under active development as a derivative of Diep.io and remains here as an archive, though spin-offs such as The Extended Tale of Diep remain active. For info on the successor to Tale of Diep, now an independent work called "A Tale Where Nothing Matters", visit its Discord server here. |
Overview
Boris the Ghost Butler is a random encounter entity within the Tower of Gladii, who can be run into by chance in place of a group of enemies. When talked to, Boris will provide some cryptic hints and clues about lore, the Tower itself, etc.
He is the great servant of the Archprophet himself, an old friend who died in battle long ago, who now decided to continue to serve him even in a postmortem state, this time back at the Tower. His abilities relate more to the prospect of wealth, due to his high salary as the head servant of the most powerful tank in the Realm.
Design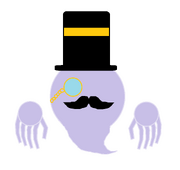 Boris the Ghost Butler is a slightly transparent, faintly purple tank with a mustache, monocle, and top hat. From beneath him, instead of the circle of a body rounding off, he gets a wisp-like ghostly tail below. he has two smaller purple hand-like tanks that hover off from his sides, with short fingers made of two conjoined barrels on top of each other that can bend, etc. He is almost two times as large as a max level player, but not quite.
Trivia
Used to be a secret boss fight before the Tower of Gladii rework (that never got finished here). Then he became a regular entity who would be encountered randomly.
Community content is available under
CC-BY-SA
unless otherwise noted.