| | |
| --- | --- |
| | Tale of Diep (ToD) is no longer under active development as a derivative of Diep.io and remains here as an archive, though spin-offs such as The Extended Tale of Diep remain active. For info on the successor to Tale of Diep, now an independent work called "A Tale Where Nothing Matters", visit its Discord server here. |
The Minion Horde was an oddity created by The Puppetmaster. The Minion Horde is a swarm of hundreds of Minions that cannot be quelled easily. Personally the favorite creation to come out of the Sons of Panzer by Perpendiculus, the Polygon Disciple of the Squares, due to its swarm nature. The fact that it takes the death of a filthy "Square Wannabe" to summon it also puts it on Perpendiculus' good side, considering many Disciples have a tendency to find some Guardians annoying.
Overview
The Minion Horde is a Realm Boss that spawns in Paradigm Dunes. It will also There are two hundred minions, each with 200 health. This totals for 40,000 maximum health. Created by Zathsu.
Design
When the Minion Horde first spawns, it looks like a GIANT Basic Tank, but it shakes oddly and its movements are... unearthly. But, upon closer inspection, this Basic Tank is made up of HUNDREDS of Factory Minions, all of which are half the size of a normal Factory Minion. Once first hit, the Basic Tank shape dismantles, and they move as a giant shapeless swarm. Every single Factory Minion has the :3 face.
Behavior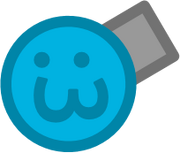 The Minion Horde is a mindless swarm of Minions, as the name would suggest. They move as one, and attack the closest living target, including other enemies. If no players, bosses, or other living things are nearby, they will quickly scour the Realm searching for things to kill. The Minion Horde sweeps through and devours anything that moves. The only exception is Polygons, as they are not attacked at all.
When a player first sees the Minion Horde, it looks like a giant Basic Tank. But upon the first hit making contact with a Minion, the entire thing falls apart and becomes a shapeless horde. The swarm is made up of 200 mini Minions, and they cluster relatively close together. Take note that the Minion Horde moves VERY fast. Each Minion has 200 health.
Minions will deal 8 damage if touched in direct contact, even less than a tank with no points in Body Damage, so it is relatively safe to ram them. Each shot a Minion fires deals 7 damage, so it can add up very quickly if one doesn't move. Minions fire once every 1.3 seconds. Players usually have anywhere between 138 to 278 health, so eating tons of these bullets quickly can be exceptionally lethal. They do not fire in unison, so always be on the move and players should be fine!
All Minions move at the same speed as a Level 1 tank with seven points in Movement Speed, allowing them to pursue any unlucky adventurer with terrifying ease. They can be outrun by tanks with recoil, and as members of the horde die, they will progressively move in on themselves and the horde will take up less area as they attempt to cluster together, so never assume instantaneous death so long as the mindless swarm is in a constant state of decay. The Minions themselves can move freely of each other, but Minions will always attempt to stay within four tiles of another Minion part of the Horde.
If a Factory attempts to fight the Minion Horde, and the Factory or its Minions die, they will be added to the Horde itself, shrinking and moving into it. If a Factory happens to die in a Square Nest or fighting Perpendiculus again while another Minion Horde is alive, a second will not spawn.
When all Minions have died, the Boss has been overcome, and players will get their reward. Each player will receive Score based on how many individual Minions they killed. Each player will receive '50 Score x the # of Minions'. This is usually less than your average boss, but the Minion Horde isn't exactly the hardest thing to destroy...
Trivia
Used to have a varying maximum health based on an old mechanic.

This was changed after Guardian Bosses were no longer to spawn in Arena Gamemodes. It used to spawn when a Factory died with 200k+ points in the Arena Pentagon Nest, with every 1000 points after 200k adding one minion, up to 500 total. Now since it spawns in The Realm, this was moved to Square Nests (since Perpendiculus likes them due to their mechanics), and since XP as we know it won't be the same for Characters used in Story Gamemodes, the health mechanic based on score was removed.

The Minion Horde is no longer a Guardian Boss either, as the category of boss has dissolved.

When added up, the total health of all Minions combined is 40,000. That alone rivals the Polygon Disciples themselves. The offset is that each individual Minion has 200 health (easily destroyed), and that as they die, the fight becomes unnaturally easier.
Community content is available under
CC-BY-SA
unless otherwise noted.