| | |
| --- | --- |
| | Tale of Diep (ToD) is no longer under active development as a derivative of Diep.io and remains here as an archive, though spin-offs such as The Extended Tale of Diep remain active. For info on the successor to Tale of Diep, now an independent work called "A Tale Where Nothing Matters", visit its Discord server here. |

Sassafras is more than meets the eye.
His eye.
His friendly eye...
Overview
Sassafras is a Polygon Boss that spawns in Melancholy Forest and areas around it. Created by Zathsu.
Design
Sassafras is a large tan hexagon. A single circular eye, like that of The Saw, sits on top of it, but with a yellow pupil on a black sclera. At each of the edges on top of him, giant Trapper Auto Turrets and Auto Dominator Turrets alternate. Since they are Auto Turrets, they can aim at players. On each side is a spawner that spans its entire side. He was created by Hexen.
Behavior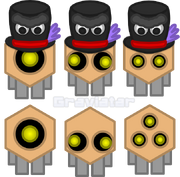 Sassafras will wander around surprisingly quickly, looking around at players with the glowing yellow pupil in its black eye, sometimes squinting at players. It will spin slowly as well, like an Auto 5.
The Trapper barrels fire out Mega Traps and the Dominator barrels will track the closest player. The Dominator bullets slightly curve and home in on players, but with so little effort it's almost unnoticeable. They will explode into a ring of sixteen smaller bullets (the size of a Vulcan's) four seconds after firing if it did not make contact with a player.
Sassafras' spawners will shoot out small tan hexagonal Gunner Minions called 'Sassafras', that get into groups and gun down players. There is a maximum of 2 per spawner. They can have either one, two, or three eyes on them, and can either have a hat or not, for a total of six varieties. When a Sassafras minion is destroyed, all other Sassafras Minions will get the Frenzy buff for 2 seconds. Every minion will say the word 'Sassafras' every few seconds, quietly, but will say different things in certain quotes. Each Sassafras minion has 250 health.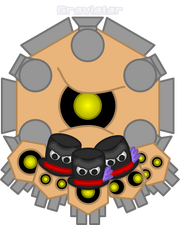 During the battle, various random phrases with absolutely no meaning will be said. These lines are usually references to other famous lines, quotes, or pop culture, things in the Tale of Diep, or just absolute nonsense. This is to disorient his foes. >_<
Quotes
New quotes can be added by anyone. Two rules: Italicize all quotes. And put new ones at the bottom. The rest is yours if you have ideas. Also note, quote purges may happen to remove some. Other than that, have fun.
"You remind me of birds more than pelicans..."
"According to all known laws of aviation..."
"I wumbo. You wumbo. He, she, we... wumbo?"
"Something smells funny."
"You can string cheese but can you tuna fish?"
"It's out of my hands, I'm only a clock."
"Hello. My name is Inigo Montoya. You killed my father. Prepare to die."
"I put the 'F' in piccolo"
"Are you feeling it now?"
"Rock. Paper. Scissors. Shoot..."
"I vacuum the bugs out of the air with my mouth."
"Welcome to your tape..."
"Swords must bleed and blood must swing."
"And so the world went... all nonsense..."
"IT HIT ITSELF IN CONFUSION!"
"Welcome to the Salty Spitoon, how tough are 'ya!"
"I... KNOW EVERYTHING. AND YOUUUUU... KNOW NOTHING!"
"And now a kind South African man will come in and break all of your thumbs"
"Hey, does this rag smell like chloroform to you?"
"The answer to life, to the universe, everything, is 42."
"Can jet fuel melt steel beams?"
"And then the Winged Hussars arrived!"
"You have been in suspension for 9... 9... 9... 9... 9..."
"Get over here!"
"What does the fox say?"
"Burn, baby, burn."
"I like trains."
"NINE MORE SEASONS, MORTY!"
"A bit of the bubbly."
"He died seventeen days into rehab."
"The flight has been overbooked. We need four volunteers..."
"Its three minutes to midnight..."
"Hello, are you interested in my religion?"
"I AM THE SENATE!"
"I've got candy in my van"
"Four score and seven years ago..."
"CHOCOLATE RAIN!"
"GAAARRRRYYY!"
"Houston, we have a problem,"
"Isaac and his mother lived alone in a small house on a hill..."
"I brought you a bass but the beat dropped it"
"What are all these socks doing here?"
"You make me mad. Like water in a swimming pool..."
"NOOoooo! THIS CANNOT BEEEEEE!"
"It's all there black and white, clear as crystal!"
"Peeled and smothered, like fine fresh vegetables,"
"Oh no, I ate that banana and now I have cancer"
"Put that thing back where it came from, OR SO HELP ME!"
"KA-ME HA-ME HAA!!!"
"Stop punching the cheese!"
"Some people say I have a nice mass"
"You're full of sausages"
"The juice is loose"
"LISTEN, I AM YOUR FATHER!"
"Hold on, I need to put on my fast pants"
"...LIVING IN A VAN DOWN BY THE RIVER!"
"UNLIMITED POWER!"
"Eat my shorts!"
"Dark humor isn't everyone's cup of liquid baby"
"He who laughs at the towel"
"Get ready to meet my special friend..."
"Paint me like one of your french tanks"
"Polygon Mother-Chan!"
"DELETE MY SEARCH HISTORY!"
"Let's get ready to RUMBLE!!!"
"Are your fists cold?"
"It's Jim! The original fry cook!"
"I eat floor off the food!"
"whY My shOuLDerS HUrt?"
"Like some predatory bird..."
"Tanks are circles, my eye is a circle, therefore my eye is a tank."
"MACBETH!"
"Understandable, have a good day."
"THE ARCHPROPHET IS IN ANOTHER CASTLE!"
"Where's pizza?"
"OF COURSE I'M NOT MENTALLY ILL!"
"Sassafras of sassy"
"HEXEN WILL BE GLAD THAT I'M CLASSIFIED AS A HEXAGON!"
"The Polygon Mother does indeed has a husband."
"FUN FUN FUN FUN!"
"GO GO POWER RANGERS"
"That's not how this works. That's not how any of this works!"
"You make a loopy-loop and pull..."
"POYO ACHACHINI!"
"Can you please sit on my lap?"
"All your base are belong to us."
"Its small, but the implications of it are large..."
"Hello, could you spare some time to talk about our lord and savior Sassafras?"
"Once there was an ugly War Machine... it was so ugly that everyone DIED. The end. :3"
"Kek to infinity."
"SomeBODY once told me that i was a shed..."
"Until you dream no more."
"Press Alt+F4 to escape!"
"My family used to dream of what was beyond this wall..."
"WARNING: ORGANIC LIFEFORMS REQUIRE O2 MASK"
"If you can't do the crime then don't serve the time"
"I wonder if my Disco-Rama wig is being shipped now!"
"I was born in the wrong generation!"
"Ladies first..."
"So you're as good with your hands as you say?"
"NEVER go out in a blizzard."
"WHAT I LEARNED IN BOATING SCHOOL IS!"
"It's so easy when you're evil..."
"Call Hexen! Tell him Sassafras has done him a heckin' good!"
"If you clean out a vacuum cleaner does that make you a vacuum cleaner?"
"Insert obscure pop culture reference here"
"HEXEN, WHERE'S MY COOKIE?"
"Between my friendly eye!"
"GUARDIAN Y IS MY HERO!"
"Someone seems making cult angery."
"Riddles. Riddles everywhere. Will you be able to solve them with your little brain BatTank?"
"There's a man riding a horse on top of my chest..."
"And you won't believe your knees... if ten million bumblebees..."
"Get licked!"
"The inner machinations of my mind are an enigma..."
"The numbers, Mason, what do they mean?"
"I NEED A MONSTAH TO CLOBBAH DAT DERE KIRBEH!"
"Sorry, I can't hear you through my ridiculaphone!"
"No, this is Patrick..."
"Order your Sassafras body pillow today!"
"NO SOUP FOR YOU!"
"Respect your ear. Clean behind your school. Stay in vegetable!"
"Can you guess what my favorite number is? its sassafras"
"We just got a letter! I wonder who its from?"
"Are you assuming my polygon?!"
"I AM A BALLERINA!!!!"
"Well EXCUUUUUSE ME, PRINCESS?!"
"You put your left foot in, you take your left foot out..."
"I've fallen and I can't get up..."
"Why do people say my feet smell if they don't have a nose?"
"THE SUN IS A DEADLY LAZER!"
"You trespass on sacred ground. Now you walk PATH OF DEATH!"
"All around me are familiar faces..."
"OOOOOOOOOOOOHHHHH! WHO LIVES IN A PINEAPPLE UNDER THE SEA!?"
"Heh, funny kid. You know what they did to wise guys like you back in Korea?"
"Ain't nobody got time for that!"
"Seduce me"
"Well, off to see your mother!"
"GLORY TO ARSTOTZKA!"
"I'll get you, He-Man!"
"I'll take a Double Triple Bossy Deluxe on a raft, 4x4 animal style, extra shingles with a shimmy and a squeeze, light axle grease; make it cry, burn it, and let it swim"
"Well Tamatoa hasn't always been this glam..."
"WHAT!? ARE YOU STILL ALIVE?! YOU ARE JOKING! YOU HAVE GOT TO BE KIDDING ME!"
"I play my trap card!"
"The Chef Boyardee was like quicksand..."
"And remember! REALITY IS AN ILLUSION, THE UNIVERSE IS A HOLOGRAM!"
"Ahh... fu-... Sassafras."
"Quack."
"THE CAKE IS A LIE."
"THAT'S A SPICY HEXEN!"
"OH HEXEN, YOU-A SO SPICY!"
"Hexagon plus Hexagon equals Dodecagon."
"I like Sliders, juicy sliders..."
"Hey hey hey, this is Fat Albert."
"The London Sassafras is falling up!"
"And now the weather..."
"IT'S ****ING COLD!" (Said after the above quote)
"Green is a creative color."
"I SPIN DELTRABLADEZ FOR FUN"
"Dross is gold and weeds are a bouquet, that's the way on Topsy Turvy Day!"
"Hakuna Matata"
"Mitochondria is the powerhouse of the cell."
"You see, HexIvan, if you hold memestol like me, you shall NEVER shoot inaccurate because of shooting fingers"
"Guten Tag Hexen. Anschluss zeit?"
"DO IT FOR THE CEREALS"
"I'm serious! Mad Hatter stole our minion's hats!"
"One of these days, Mad Hatter will kiss his hat goodbye!"
"KISSY KISSY KISSY AWAY!!!" (Said after the above quote)
"Did you know the square root of Perpendiculus is ridiculous?"
"THE ALL SEEING EYE IS ME! Ha, Ha, HAAAAAAAAAAH."
"MMMMMMM!- Cheesy."
"Shut up and take my money!"
"DON'T TOUCH DA CHILD!!!!"
"Vegeta! What is the spiciness of the Hexen? IT'S OVER 9000!!!!"
"Most disputes die and no one shoots!"
"All hail the Llama God."
"Mier Mier."
"One shall stand. One shall fall. One shall sass."
"Ah!!! Bothered and befuddled!"
"I was once an adventurer like you, then I took an arrow to the knee..."
"Believe in the me that believes in you!"
"Do you wonder why Hexen is so spicy? That's because he looks like he's made of 100% wasabi!"
"Eat pant"
"Oh Spicy You-A So Hexen!"
"Why Angery?"
"My day is ruined, and my disappointment is immeasurable."
"Awwwww, relationship goals!"
"Presto! And like that, the tank is gone!"
"I wonder if Hexen tastes minty..."
"DO YOU HAVE ONE YEAR OF ZERO EXPERIENCE? DO YOU SPEAK UNITED STATES?"
"I am a hexagon. Hexen is a hexagon. Therefore I have the same amount of Spiciness of Hexen."
"How many layers of irony are you on?"
"I would crack my Hexen in anticipation of your memeing, but alas I do not have 20 Moneys."
"Quack quack. QUACK!"
"I WILL EAT YOUR SOUL!!!!!"
"Do you know de wey?"
"Show me again, the power of the SWOLE."
"One Sassafras. Two Sassafras. Three Sassafrasses."
"Yo dawg! I heard you liked War Machines, so I put War Machines into a War Machine so you can war while you war!"
"Realm of the Mad Panzer! My favorite game!"
"All hexagons have six sides and you are getting on my bad one"
"Sassafrassassination!"
"THE LIGHTNING BOLTS GO BACKWARDS!"
"Hey... IT ISNT ORAANGGEE!one!!1!!!1"
"I GO BACK TO 4032!!!!!"
"To Sassafras or not to Sassafras?, that is the question"
"To Sassafras, DUH!" (Said after above quote)
"RA-RA-RASPUTIN! LOVER OF THE RUSSIAN QUEEN!"
"Why don't presidents fight the war!?"
"They should of kept Prussian blue."
"Make (name of area that Sassafras is in) great again!"
"I will stuff you all in the crust!"
"Can you smell that?... I think Fanboys of Panzer are coming..."
"I have F U R Y!"
"Get a taste of my 360,000,000 ton delivery of hexagonian beefcake"
"iM noT dEluSIonAL yoURe deLUsIonAl"
"You really put MY PANCAKES IN A TWIST!"
"And I say... HEYAYAYAYAYA!"
"Tell your faces to stop hitting my bullets!"
"What once was is no longer were."
"3.1 Guardians per second!"
"I am SO WIDE."
"Do you a do?"
"Tis but a scratch!"
"Mah boi, this tank is what ALL true warriors strive for!"
"Never overclock your underwear."
"THUS BEGINS MY THOUSAND YEAR REIGN OF BLOOD!"
"You are not prepared!!!"
"SA-SSA-FRAS! MORE THAN MEETS THE EYE! SA-SSA-FRAS! SIX SIDES IN DISGUISE!"
"Just Sassafras."
"I hope you're ready for an unforgettable boss fight!"
"Hexen, I don't feel so spicy."
"Somebody once told me the world is gonna roll me, I ain't the sharpest tool in the shed. She was looking kind of dumb with her finger and her thumb In the shape of an "L" on her forehead. Well the years start coming and they don't stop coming and they don't stop coming and they don't stop coming and they don't stop coming and they don't stop coming and they don't stop coming and they..."
Special Quotes
Certain quotes only become said when something happens, where upon said thing occurring, the line is guaranteed to be said. Do not add to this list, as they are mostly pulled from the above pool already.
"I like crackers..." (Chance to be said upon spawn if players are nearby)
"A whole new WOOOORLLLLD!" (Chance to be said upon spawn if players are nearby)
"I have developed a newfound craving for SUSHI." (Chance to be said upon spawn if players are nearby)
"HO OH OH!" (Chance to be said upon spawn if players are nearby)
"You feel an evil presence watching you..." (Chance to be said upon spawn if players are nearby)
"It's-a me, Sassafras!" (Said when the first player encounters him if he doesn't spawn around any players)
"This wouldn't have happened if we reestablished Communism..." (Occasionally said when Sassafras kills someone)
"Another one bites the dust." (Occasionally said when Sassafras kills someone)
"I deploy my MINION HORDE!" (Said when deploying a full load of Sassafras Minions)
"D'oh! (Said occasionally when a minion dies or sustained 200+ damage in a short period)
"THAT'S A SUPER DUPER SPICY HEXEN!" (Only mentioned during the wave of Sassafras accidentally released by Hexen, all says this simultaneously)
"Oof." (Chance to be said upon death)
"Press F to pay respects..." (Chance to be said upon death)
"Ouchie ouch" (Chance to be said upon death)
"Another world and another Time..." (Chance to be said upon death)
"See you in your dreams!" (Chance to be said upon death)
"When you die, you rot and fade. When I die, I rise again..." (Chance to be said upon death)
"In his test to battle Time, I return to the eternal mind!" (Chance to be said upon death)
Trivia
Sassafras was raised by ducks from a young age. How do you think Sassafras mastered the art?
Sassafras is a big fan of Disco-Rama.
Multiple Sassafras can either be referred to as "Sassafrasses" or "Sassafras", for example; both the phrases "two Sassafras" and "two Sassafrasses" are acceptable.
Sassafras's favorite food is wasabi because it's green and "spicy" like Hexen.
It has a much greater influence over everything in the Extended Tale of Diep...

That being said, this page is for the Tale of Diep version of Sassafras. If you are looking for the Extended Tale of Diep variant, look here.
Community content is available under
CC-BY-SA
unless otherwise noted.