| | |
| --- | --- |
| | Tale of Diep (ToD) is no longer under active development as a derivative of Diep.io and remains here as an archive, though spin-offs such as The Extended Tale of Diep remain active. For info on the successor to Tale of Diep, now an independent work called "A Tale Where Nothing Matters", visit its Discord server here. |
My fires burn on, forever...
Overview
The Furnace is one of the many Sons of Panzer that has a chance to spawn in Fortresses. It is the Boss Tank variant of the Skimmer. Created by Zathsu.
Music
Battle Track:
Death Animation Track:
Note that all Sons of Panzer share these two tracks amongst all of them.
Design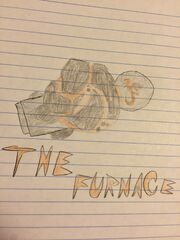 The Furnace looks like a giant dark gray version of a Skimmer. Its body has a very rocky and metallic texture, with lava filling the cracks. The rocks sometimes jut a bit off the body. A large dark orange crack of lava and fire sits on the body. The two barrels stacked, have rocky armor climbing up the sides of them. On the back of the tank sits a dark gray circle with the glowing orange dragon symbol seen on the helmet of The Tres Geminos.
Attacks and Abilities
Notes: The Furnace is in a constant state of being Armored, but the weak point, marked by the dragon, will take full damage if hit.
Fire Lines: Will move left to right, firing his 'missiles' (thats what I call the bullets that fire bullets the normal tank releases). None of the main bullets will actually move until all five are created. Instead of having two back barrels at an angle, these ones have a single one on the back.
Burnout: His barrel will rapidly flash red for about 2 seconds, before releasing a giant rocky bullet with four of the smaller shooters on it. The Furnace will take huge recoil backward from this attack. The giant bullet will go forward slightly, stop moving, then slowly rotate as the smaller shooters begin releasing streams of bullets. After three seconds, the smaller ones will stop shooting, and the giant bullet will continue firing forward progressively speeding up.
Massacre: Burnout, but the smaller shooters continue firing as the bullet begins moving forward again.

Furnace Blast: Fire will begin glowing around the tank with flame particles building up around it. From the barrel, a missile with a Gunner-like back will be released, and the small shooters will fire orange bullets that inflict Burning (however these bullets stay frozen in place). Upon hitting the opposite wall, super fast bullets will be released in all directions, and the trail left behind's bullets will split left and right, depending on which barrels released them. The Furnace gets Frenzy for 5 seconds and Broken for 3 seconds as well, after this attack.
Cremation: Two giant orange Drones will appear from the crack on its body, and hunt down then connect to players. They will slowly begin being dragged back toward The Furnace. Should they pulled in, they will die and The Furnace's barrel will puff forth a cloud of black bullets that spread outward in a giant mess of randomly sized, randomly speedy bullets. It will not move or rotate or take damage until the two Drones are killed or all players attached to them have been cremated.
Spiraling: Its launcher will release a giant rotating missile with three evenly spaced small shooters on it. They fire every 1.2 seconds.
Waste Disposal: Will sort of jump in a movement jolt one direction, then eight lines of bullets that inflict Burning will be fired out a short distance.
Death Animation
The Furnace will begin vibrating in place as the lava cracks glow brighter and begin to bubble. The rocks on the body then start rumbling, shaking individuality like rock plates during an earthquake. With the sound of grinding rocks and then an explosion, the various rocks making up the body will fly outward in all directions, while slowly turning to dust. The lava will spread out as damaging tiles and then fade away a couple of seconds later. The only thing left behind from the white flash and what didn't turn to dust, is his small gray circle with the dragon symbol on it, which slowly drifts off screen amidst the dust and ruin.
Trivia
One of the Sons of Panzer that sticks to its theme most.
Created on the same day its tank was released in Diep.io. Or at least, within 24 hours of it.
Furnace Blast and Waste Disposal are references to Kingdom Rush. Both are abilities used by Dwarven Artillery final upgrades in Kingdom Rush: Frontiers.