| | |
| --- | --- |
| | Tale of Diep (ToD) is no longer under active development as a derivative of Diep.io and remains here as an archive, though spin-offs such as The Extended Tale of Diep remain active. For info on the successor to Tale of Diep, now an independent work called "A Tale Where Nothing Matters", visit its Discord server here. |
The Lich is one of the many Sons of Panzer that can spawn in Fortresses. It is the Boss Tank variant of the Necromancer. Created by Zathsu.
Design
The Lich looks like a Necromancer that has a skull-shaped etched mask on it like the Archprophet. The spawner barrels (while still useless like a Necromancer), have smaller ones coming out of them like a Hunter or Sprayer. And coming out of those is a short spike. He purely uses his drones for defense and sacrifices. Sacrifices allow him to use stronger attacks.
Music
Battle Track:
Death Animation Track:
Note that all Sons of Panzer share these two tracks among all of them.
Attacks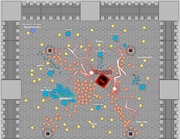 Note: This boss does not create the Drones uses in its attacks. There are four Drone Hives near the corners of the room that spawn them. Unlike with playable classes, the Drones naturally float to him. Unlike other Drone Hives, the drones produced are Necromancer squares. The Lich can have up to 300 Drones.
RISE!: All squares in the room will become his Drones, in a flash of red lightning from his side lances.
Beam of Scrutiny: A twin solid laser beam will fired out from the eyes of the skull and he will sweep a part of the room with it. All tanks touched get damaged and Poisoned.
Barrier of Bones: Will sacrifice 10 Drones to form a Protector shield with a bone sprite in front of him.
Sacrificial Strike: An orange, AI-controlled Lancer tank will come from underneath him, and chase the closest player until death.
Ritual of Blood: Sacrifices 8 Drones and 600 health to form a pattern of lasers in spider web formation, with him in the middle. All tanks that cross the lines become Slowed, Blinded, and Weakened.
Sacrilegious Seal: If all four Drone Hives are destroyed, he will sacrifice 400 health to repair all of them.
Overmind Warp: All Drone Hives will flash purple and release drones for him 2x as fast. This can last anywhere from 6 to 12 seconds, and costs him 900 health.
Mind Over Magic: Will sacrifice any number of Drones and for each one he does, he gains 300 health. If he goes above his max 10500 health, he will double in size (for each 3000 health he gains above 10500), move slower, and take 2x more damage until it goes below 3500 again. However, he does 2x damage while at more than 10500 as well.
Death Animation
Needless to say, The Lich cannot die the same way as the other Sons of Panzer. When The Lich reaches 300 health, a white ray of light will come down from the top of the screen, as The Lich grows angel wings and flies up into it, escaping death into the heavens, with a white flash.
Trivia
Like the Leech, grows as it recovers health, for some reason. I thought I could abuse the mechanic again.
Unlike most bosses, Polygons spawn in his room. The only ones that do though are squares.