| | |
| --- | --- |
| | Tale of Diep (ToD) is no longer under active development as a derivative of Diep.io and remains here as an archive, though spin-offs such as The Extended Tale of Diep remain active. For info on the successor to Tale of Diep, now an independent work called "A Tale Where Nothing Matters", visit its Discord server here. |
The Overmaster is one of many Sons of Panzer that can spawn in Fortresses. It is the Boss Tank version of the Overlord. Created by Zathsu.
Design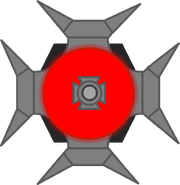 The Overmaster looks like an Overlord, except its barrels are shaped like axe blades instead of trapezoids. This gives it a bit more intimidating look. It has a black hexagon, like a Smasher, beneath it.
Music
Battle Track:
<soundcloud url="https://soundcloud.com/zathsu/storm-the-castle" height="" auto_play="false"></soundcloud>
Death Animation Track:
<soundcloud url="https://soundcloud.com/zathsu/a-hero-falls-1" height="" auto_play="false"></soundcloud>
Note that all Sons of Panzer share these two tracks among all of them.
Attacks
The Overmaster has a four drone-based attacks that will mess you up. The Overmaster usually stays kind of near the top of the Fortress, but will occasionally move around to dodge, etc.
Drone Shield: Will make an almost solid ring of Drones that will circle around it, with only one gap open for shots to get though. Lasts varied amounts of time.
Drone Burst: Will summon a ring of drones around it, then fire them outward from its center. These drones move really fast, and do not come back. Will do this up to three times in quick succession, generating new drones each time.
Drone Charge: Will act just like an Overlord, using its drones to chase players.
Drone Clusters: Will create three clusters of Drones that circle around him. Then, one at a time, they will charge at players and explode into Drone Bursts once they get close enough.
Death Animation
The triangle on The Overmaster's body will begin rapidly rotating before glowing white, followed by glowing white cracks forming all over his body. Two powerfully bright white rays will be shot out diagonally on opposite sides of The Overmaster's body like a gamma ray burst, followed by his body shattering into pieces like glass, turning into dust as a white flash consumes the screen.
Community content is available under
CC-BY-SA
unless otherwise noted.