| | |
| --- | --- |
| | Tale of Diep (ToD) is no longer under active development as a derivative of Diep.io and remains here as an archive, though spin-offs such as The Extended Tale of Diep remain active. For info on the successor to Tale of Diep, now an independent work called "A Tale Where Nothing Matters", visit its Discord server here. |
The Tactician is one of the many Sons of Panzer that can spawn in Fortresses. It is the Boss Tank variant of the Gunner Trapper. Created by Zathsu.
Design
The Tactician looks like the Gunner Trapper, except it has two Gunner barrels on the front, and two TINY Trapper barrels positioned side-by-side like the Gunner barrels. However, a third regular-sized one sits in the middle of them.
Music
Battle Track:
<soundcloud url="https://soundcloud.com/zathsu/storm-the-castle" height="" auto_play="false"></soundcloud>
Death Animation Track:
<soundcloud url="https://soundcloud.com/zathsu/a-hero-falls-1" height="" auto_play="false"></soundcloud>
Note that all Sons of Panzer share these two tracks among all of them.
Attacks
Note: Unlike every other Boss Tank, this tank has a pre-set and repeated order of actions. Every single time it will do this list top to bottom, and then repeat until dead. Every other boss has it so abilities happen randomly.
The Shield: Will surround itself in impenetrable, unmovable Traps extremely quickly.
Burst: Will fire out Gunner bullets rapidly at the closest tank, switching targets should they get closer.
Trap Prison: Will flash purple, and a ring of Traps will surround a player. These Traps can be shot and moved however. Used thrice in quick succession if there is more than one player.
Spike Bounce: Will charge up in one direction for three seconds before firing an incredibly large Trap outward that moves decently fast and bounces off walls before disappearing 4 seconds later.
Recharge: Will destroy all traps forming a shield around it, becoming vulnerable for 5 seconds. However, once this ends, it uses:
Power Beam: A ring of 32 bullets will fire outward from The Tactician. It will then restart this list again.
Death Animation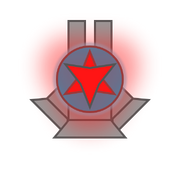 The end of the fight comes from it blowing up to try and take you out with it. Once on 5% health, it will become Invulernable, and begin flashing red. Everyone has 10 seconds to get out of the Fortress, or they WILL die. The person who made it enter Self Destruct gets the Bounty.
Trivia
It is the only Son of Panzer with a set pattern.
Basically, it can only be hit during Recharge, but that's why it has the least health of every Boss Tank.
It is the only Son of Panzer with an insta-kill attack.
Has the least health of all Sons of Panzer, at 3000. That's the same as an Alpha Pentagon, or the Guardian.
Community content is available under
CC-BY-SA
unless otherwise noted.