Herro There.
I'm the creator of the Herro meme a Wiki guy.

I help undeveloped communities (sometimes) and I like playing video games, particularly MooMoo.io. I usually call myself HerroPeople, and clans I create are called HOPE. Why? HerrOPeoplE. Though sometimes, to mess around, I call myself the name of a local Staff member, like in MooMoo.io, I might call myself Loading.
What do I do on Fandom? There are several Wikis I contribute to:

- MooMoo.io Wiki: This is my main wiki, and I have Bureaucrat and Administrator rights.

- My Wiki: I was the founder (dur), and have Bureaucrat and Administrator rights.

- Clash Royale Wiki, Boom Beach Wiki, Brawl Stars Wiki: I'm a Supercell addict. And is it just me, or is the Boom Beach wiki just perfect?
Questions? Feel free to start a chat with me. Simply message me on my wall.
So...I just wanna help out. You can too. This is a link to a random page in the Cleanup Category.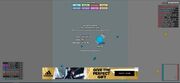 This is my best score with a hybrid. Go ahead and laugh at both my score and my blurry image. I suck at this game. My record is ~215000 with Landmine. Yeah, laugh.