Hello! Hikidy123 here! This is my prof. If you want to find me on .io games here are my names: Hikidy123 (MG) Mope.io Hikidy123 or Gunner=Team Diep.io Hikidy123 Deeep.io
Apperance
In arras.io, my tank is mostly a Hybrid, I would want to be red.
Fanom Game Modes
Save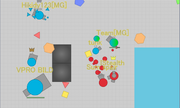 Save mode is where you save every one of your teammates, you can choose to be a Healer, Builder, Or just a fighter, (Battling other teams.) If every one of your teammates gets killed, you lose. Destroy all the other teams to win.
Space
TBA
Elimination
TBA
Fanom Polygons
Orange Hexagon

This polygon is more rare that a pentagon, 10x more rare! When killed, rewarded 290XP.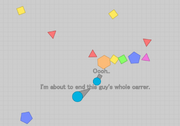 That's it I cant come up with anymore.
Jokes
Sorry if these aren't funny to you. I'm just trying to make your day. Q: What is Betty's favorite arras.io gamemode?
-A: SPACE Mode!

Q: Why are Boosters mostly used? -A: They 'Boost' you up!
Members of TankConceptionWorld
User:Hikidy123
Sorry For Being Dead
My Tanks
Fanon:Lazer Fanon:Quadtruple Shot
Boss Tanks
Reminders
The Akafuji in woomy is OP How to get: Tank Lancer Stilettto Akafuji
All my tanks
Support

thinggys
B
o
o
s
t
e
r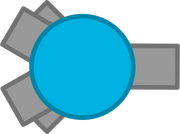 B
o
o
s
t
e
r
Hikidy123 needs to use the bathroom, he will be right back.
Likes/Dislikes
Likes
destroyer tier tanks (Cuz theyre op) destroying oblivion plain named tanks letter m and n youkron
Dislikes
Oblivion plain name tanks when obpl outsmarts me
prof W.I.P
You'll need something here.
- Anonymoususer12321 (AKA AU12321) (talk)
Community content is available under
CC-BY-SA
unless otherwise noted.